Welcome to the Group Scout Leader and Executive Page.
1st Bedhampton Scout Group is managed by a Group Scout Leader (GSL) who is a volunteer and supports the leaders.
The group also has a Executive Committee which provides the independent governance the Scout group requires (e.g. Approval to spend money has to pass through this committee). The "exec" also works hard on fund raising for the group.
Click here for our adopted data control policy v2.
The group is always looking for new members to join the Executive. Email nigelJvosper@sky.com  if you are interested.
| Link | Document | Last updated |
| --- | --- | --- |
| Click here | Latest Group Scouters Meeting | |
| Click here | Latest Executive Meeting | |
Click here for details on international expeditions and jamborees and the funding the Executive may be able to help with.
2019 Executive Dates: Meetings are held at 7.30pm in St Thomas' Church Parish Room.
Mon 28 Jan 19 (Leaders Meeting was 14 Jan 19)

Mon 20 May 19 (Leaders Meeting is 09 May 19)

Mon 14 Oct 19 (Leaders Meeting is 30 Sep)
The last AGM was 18 Jun 19. Thank you to everyone who supported.  Click here for the minutes. 
The group regularly provides updates on what it is up to the the Bedhampton Church who sponsor our group. Click here for the March 2019 Scout Group input into the Church Annual Parochial Report
The current Group Chairman is: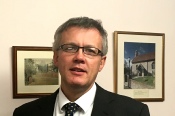 Matthew Quinn
With support from

Christine Petrie (Treasurer) and Davina Farrugia (Secretary)
The current Group Scout Leader is

Ian Barbeary