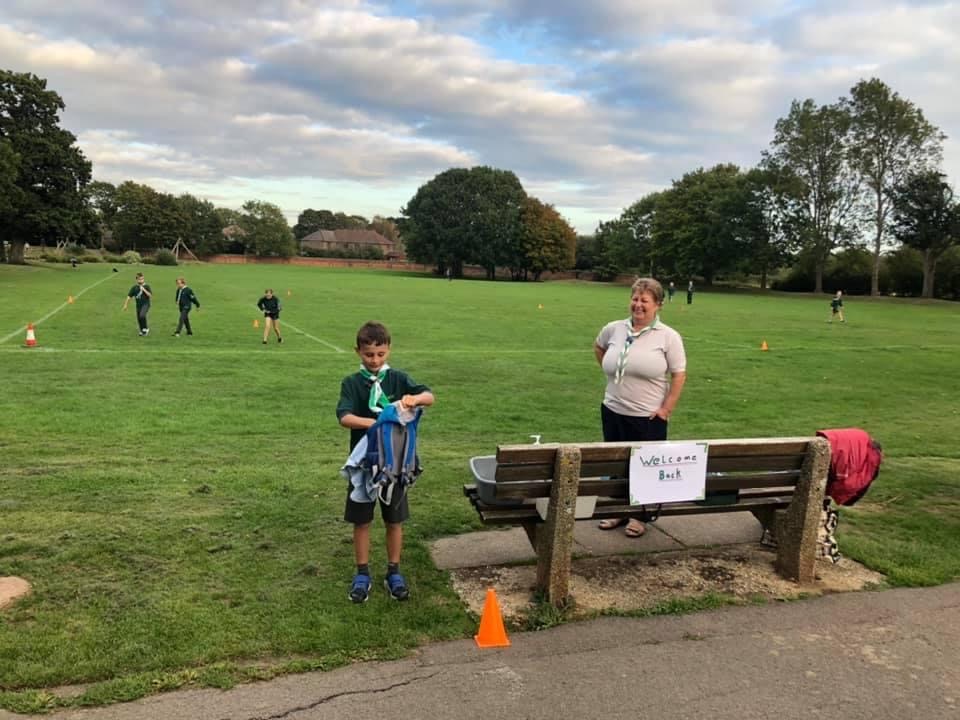 This page has been set up to contain all the Covid-19 Information, including our risk assessments.
Update 21/03/21: We are still working towards a return to face to face Scouting on Tue 30th Mar and Wed 31st Mar. We expect confirmation from the National Scout Association just before this date that we are able to move to "Amber (outdoor)" status which allows this in line with National Youth Agency and Government Guidance. In preparation for this we have reviewed and updated the guidance we give to Parents/Guardians. This can be found below.
Update 05/03/21: Following an announcement earlier this week by the National Scout Association and the National Youth Council we are pleased to announce we are working towards meeting back outside face to face from Tue 30th Mar and Wed 31st Mar. This is just before the 2 week Easter Holidays but we would be very pleased to see some of you! More information will be sent to members and we will update this page as we approach this date. As always attendance is optional.
Update 03/01/21: Unfortunately with the introduction of Tier 4 Covid Restrictions in the Havant area we have moved into the National Scout "red" zone and along with all other areas in Tier 4 we are not allowed to meet face to face. We will revert to sending out programmes (for Beavers and Cubs) and Online Zoom Meetings (for Scouts and Explorers).
The information in grey below is provided for when we return to face to face Scouting in Amber which we expect for Tue 30th Mar 21.
This information and the rest of our Covid19 procedures are driven from our risk assessments which are going through final approval to check they line up with National Scouting and Government Guidance.
1st Bedhampton Beaver Scout and Cub Scout Amber (indoor enhanced) Risk Assessment.
1st Bedhampton Scout and Explorer Amber (indoor enhanced) Risk Assessment.
Please click here the National Scout Framework and detailed guidance which is used to create these risk assessments (links to the National Scout Website)
FAQs
Changing Sections: At the moment our focus is getting back to face to face Scouting and at the moment we have paused moving people between sections. We will look further at this at some stage (probably around Autumn 20 half term) but I'm expecting it to be slower and done on a case to case basis. I'm sure you can appreciate in the current climate not to be wanting to push Children up to the next section if they are not ready. Some will find it will be stressful enough for both Children and Adults just getting back to the routine and we certainly don't want to add to this in the first weeks back.
Joining: We need to get back to face to face Scouting and get used to the new rules before we let anybody else join and then we will need to go strictly in the order they are in on the waiting list (only children of leaders/helpers get priority). Please also see our joining page.
Subs (to be confirmed at the Executive on 12 Oct): Subject to confirmation by our Executive Committee at their meeting on 12 Oct the following plan is proposed for Subs: 1) We charge them from the first week you start back (i.e. if you are taking a break for Covid reasons you will not be charged). 2) The rate will be 100% if we are meeting every week. 50% if we are only meeting every other week. There could also be a pause if (hopefully not) we go into a local lockdown. 3) We would change this term/half term at the end of it (so we know the amount) rather than at the start as normal. Update This plan was approved by the Executive 12 Oct 20.
Duck Race: Plans for what to do about the postponed Duck Race will be discussed at the next Executive on 12th Oct. Update the Executive decide that the duck race would be held "behind closed doors" with the outcome announced at our Zoom AGM on Mon 30th Nov. Tickets need to be returned by Tue 17th/ Wed 18th Nov.